FAA Obstruction Light Monitoring & Control
DigitaLogic provides FAA obstruction light monitoring and control.
We install automatic FAA obstruction lighting, monitor, and control systems which turn lighting on only when aircraft are in vicinity.
Our lighting systems integrate with existing lighting and control mechanisms to ensure all your systems comply with FCC/ICAO and FAA standards for monitoring and safety.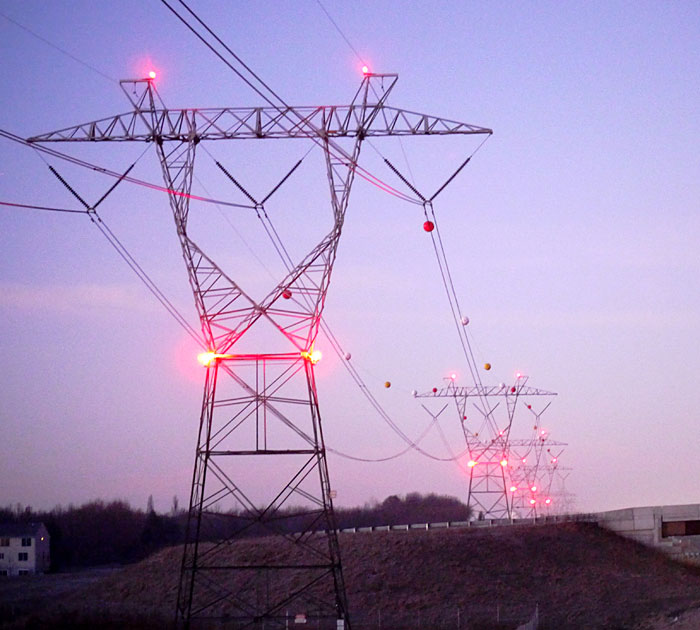 We provide full system solutions
We provide the customer with all or some of the following capabilities:
Radar Control for Light ON/OFF – The ability to keep the FAA Lights off when no aircraft are in the vicinity of the structures. If aircraft approach the structures, the system would turn the lights on almost instantly. If the radar or connectivity should fail, a failsafe mechanism would cause the lights to stay on.
Reporting – Analytics with the ability to send alarms to specified personnel, including alarms via email or text.
Cyber Security – Compliance with NERC-CIP security requirements and the flexibility to support changes in security requirements over time. ESP (Electronic Security Perimeter) and EAP (Electronic Access Point).
Consolidation – All lights can be consolidated onto a single open platform capable of monitoring light health, power health (solar power supply, AC power, battery health, temperature, fans, etc.) and telecommunications.
Utility Standard – We welcome the opportunity to provide the standard FAA lighting solution to be applied to multiple sites within your portfolio.
Scalability – The ability to start with a few sites and expand to many sites over time using different communications mediums (trunk voice, fiber, cellular, 900MHz, etc.) and/or protocols (DNP, Modbus, etc.). Ability to accommodate any device from any manufacturer.
Secure Engineering Access to SCADA Screens – The ability for authorized Engineering, Management and or Field Personnel to log in on their computers and securely view SCADA screens (view only, no controls), navigate between screens, and to write SQL reports for data analysis.
Network Integration – Telecommunications across various networks, including 3G and 4G cellular, fiber and 900 spread spectrum (900SS). Ability to reduce recurring cellular costs.
BES Upgrade Capability – The platform has the capability to comply with BES (Bulk Electric System) requirements when installed, or to be upgraded to compliance at a later date.
System Hosting – DigitaLogic offers to host, manage, and monitor all data and alarms while providing all necessary cybersecurity.
Our FAA Lighting Solution (IGIN-EFS) provides the central technological connectivity platform that enables each utility and vendor organization (project managers, construction crews, fiber installers, radar providers , solar power vendor, UPS enclosures, utility IT group, utility system management group, etc. to follow their independent schedules asynchronously without worrying about the end-to-end connectivity.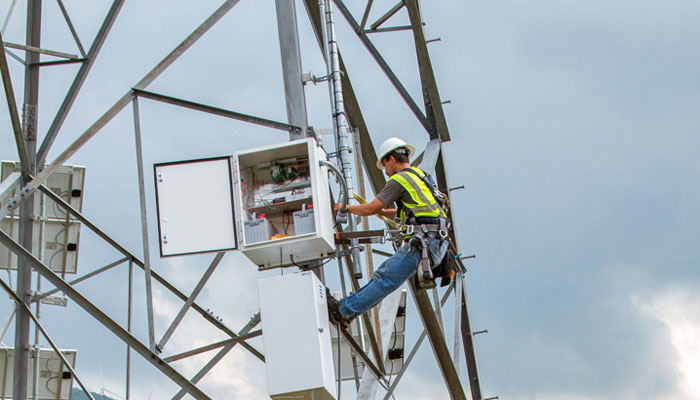 Our Lighting, Monitor and Control Solution (IGIN-EFS) provides the following:
Cybersecurity – The system has 256 bit encryption, time authentication, signature authentication, pass-wording and other security features.
Reliability – Fail-Safe applications to detect communication failure for unsolicited connectivity and to switch the lights on until end-to-end communications are re-established and aircraft leave the area. The Failsafe application asynchronously accommodates different communication environments (TCP/IP, Serial, Fiber, Wireless) and is able to automatically recover once end-to-end connectivity is re-established.
Never Become Obsolete – The ability to keep up with changing technology and upgrade the system.
Manageable Platform – Single platform supporting all protocols, communication and connectivity options (Cellular, Wireless-Spread Spectrum, Fiber, Trunk Voice, etc.)
Communication Diagnostics – The diagnostics include detailed logging at the front end and remote site, reporting communication events, reliability statistics, health of power supply and many other parameters on a real-time basis. This information is provided in order to simplify trouble-shooting and maintaining a reliable real-time wireless/cellular system on a proactive basis.
Multiple Control Points – Broadcast control to multiple devices (e.g. On/off to group of FAA Tower Warning Lights, Timesync, Dormant, Restart, Unsolicited AI/DI configuration).
Interoperability – Ability to communicate with any device from any lighting manufacturer (TWR Lighting, Flash Technology, itl and Unimar) and the solar power RTU (Red Lion via Modbus).
Contact us for more information on how we can serve your FAA light monitoring and control needs.