EFS Use Case: Key Crossing
EFS For Monitoring FAA and Marine Lights with Redundant Communication in Challenging Environment
Use Case
High-profile overhead transmission line requiring supply, monitoring, and control of solar-powered FAA Obstruction Lights and Marine Lanterns, including NOTAM and Notice to Mariner warnings.
Customer Size
Large Utility: Baltimore Gas and Electric (BGE)
Utility's Primary Concern
Highly visible project with environmental constraints
Long-lasting components (electronics/batteries) with minimal downtime in case of low sun conditions or hazardous environmental conditions
Long-lasting components (electronics/batteries) with minimal downtime
System Goals and Requirements
Solar-Powered FAA and marine lights
Ability to work autonomously for up to14 days
Redundancy/dual communication channels
Cyber-security
Protection of delicate electronics and batteries in an environment with temperature and humidity extremes
Automatic alerts to stakeholders – NOTAM (Notice to Airmen), Notice to Mariner, and alerts to utility personnel
Continuous repair services
Solution
Enterprise to Field System™ and custom-built solar systems to power, monitor, and alert stakeholders
Seven custom-built solar systems to power FAA lights and wireless telecommunications

Solar rating: 2.4 kW
Battery storage: 28 kWh
Battery technology: LiFePO4 battery system

Eighteen (18) solar systems for marine lanterns and local communications
Custom-built housing designed to maintain a stable internal environment over the river with annual temperature and humidity extremes
EFS Monitoring of seven sites – five over water and two on land
Dual 900 MHz radios on each site with redundant cellular backhaul
256-bit end-to-end encryption, authentication, audit trail, and other security features
Single EFS platform supporting redundancy, all protocols, communication, and connectivity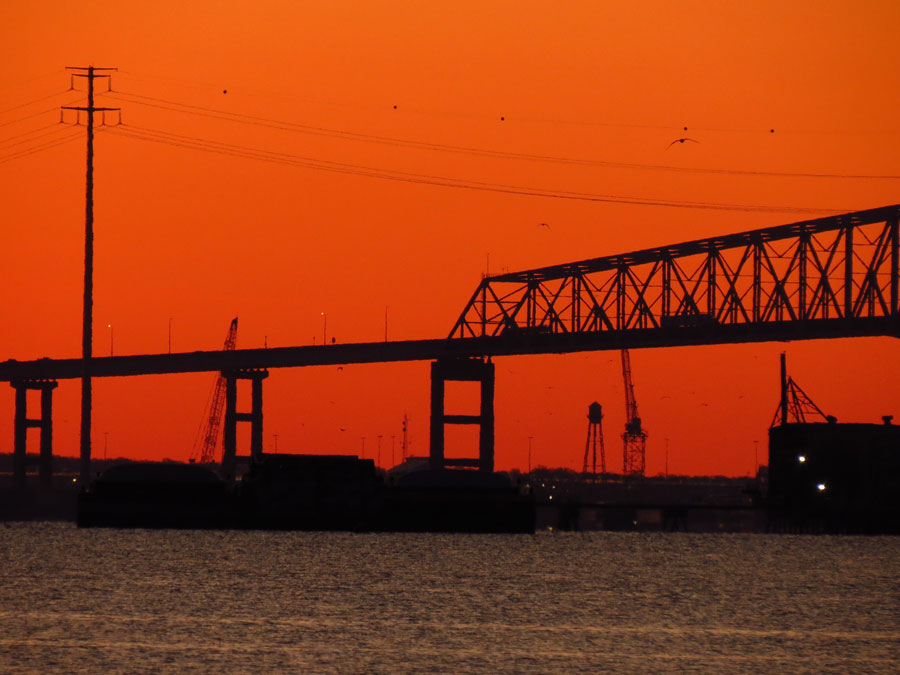 Background
BGE had two high-voltage underwater transmission cables crossing the Patapsco River that were reaching the end of their useful life. The underwater cables were approximately two miles long and a decision was made to replace them with an overhead transmission line. The two-mile overhead line required five monopole structures in the river posing a potential danger to shipping and air traffic.
This required the installation of Marine Lanterns on the pole foundations and FAA Obstruction lights on the monopoles. The two monopole structures spanning the central shipping channel stand about 400 ft high and are the tallest in North and South America.
The project required seven custom-built solar systems for the FAA lights and eighteen (18) solar systems for the marine lanterns. The solar system design needed to accommodate the following constraints:
High humidity in summer with annual temperature extremes – typically over 100° F in summer down to single digits in winter.
Potential for extended periods with cloud cover. The project required that the solar systems would work autonomously for 14 days (i.e., batteries only & no sun) – twice as long as typically required by federal regulations.
Minimum of 10 years of battery life for FAA light/telecom solar systems.
Limited space for solar power systems at some sites
Due to space constraints and the requirement for long-lasting batteries with 14-day autonomy, the solar systems use LiFePO4 batteries which last significantly longer and have a much higher energy density than lead-acid batteries. LiFePO4 batteries do not perform as well in extreme temperatures, so the system must keep the interior between 55° F and 95° F throughout the year. The enclosures are stainless steel, NEMA 4X with a system in place to remove humidity.
Along with the health of the lights, EFS monitors the inside temperature, outside temperature, humidity, and battery parameters. After extensive modeling, Digitalogic's engineering team concluded that to deliver on the customer's requirements, each solar site should have eight 48V/3.5 kWh LiFePO4 batteries (totaling 28 kWh) with six 415W solar panels.
EFS Connectivity
The EFS system architecture includes:
Servers with site redundancy and system redundancy EMS/SCADA systems (i.e., servers in two separate locations, each with hot backup)
256-bit end-to-end encryption, authentication, audit trail, and other security features.
Two radio master sites with cellular backhaul using different carriers (ATT & Verizon).
A browser-based HMI enabling case-holders the ability to review the system
Conclusion
The EFS and solar system custom-built by DigitaLogic has operated successfully since its installation in early 2022. The system continues to meet all requirements and objectives in terms of delivering vital notifications, system security, and redundancy.